Hosting city
Aveiro is located on the shore of the Atlantic Ocean, it is an industrial city with an important seaport. It is known as the Portuguese Venice, due to its system of canals and to the traditional boats called "moliceiros".
Aveiro is perhaps one of the country's "undiscovered gems". Aveiro offers the perfect combination of urban heritage and culture, and relaxed beachside retreat. The trip on a moliceiro is perfect to admire the city and the facades of the houses that line the waterways.
Food and wine
Beeing a seaside city, Aveiro is famous by its fish dishes, especially eel stew, salt codfish, lamprey and a variety of sea and lagoon fish soups. These dishes are always accompanied by famous wines of the demarcated region "Bairrada".
The "Leitão à Bairrada" (suckling pig roasted in a firewood oven) is also one of the symbols of the region. Its pastrymaking is also renowned, the typical Aveiro sweets are "Ovos moles" and "trouxas de ovos" both made from eggs.
Leisure
The beaches near Aveiro, "Costa Nova do Prado", "Barra" and "Gafanha da Nazaré", are well suited for the practice of surf, kitesurf and windsurf or for just enjoying the sun. The canals of "Ria de Aveiro" are a very conducive place to the practice of rowing and sailing.
For those who enjoy cycling or just taking a walk on the city, Aveiro provides the conditions so both activities could be enjoyable. Most of the city has a bike path that allows the use of the bicycle safely.
There are several attractions in Aveiro and in the its surroundings. The ecclesiastical buildings, such as the cathedral or the Church of St. John the Evangelist, the Museum of Aveiro, the Campus of the University of Aveiro or the Vista Alegre Ceramics (in Ílhavo) are some of the examples (see more here).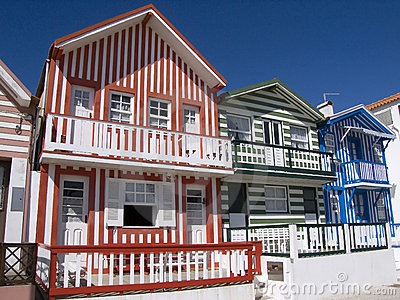 Another point of attraction are the traditional houses of fisherman at Costa Nova. The fisherman painted the houses in bright stripes to stand out against the pale tones of the sand. Nowadays these houses are mainly used as beach huts by holiday guests.
Also near Aveiro, the Aveiro lighthouse, which is the tallest lighthouse in Portugal, can be observed. It has a height of 203 feet (62 m) and it is the nineteenth tallest "traditional lighthouse" in the world. It is located in the beach of "Barra".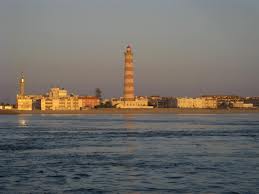 The fine beach of São Jacinto lies close to woodland and the São Jacinto Dunes Natural Reserve, with well preserved dunes and varied fauna and flora would be excellent choices to visit. The São Jacinto Dunes Natural Reserve is also an exquisite spot for bird watching. The Common Scoter, the Marsh Harrier or the Purple Heron are just a few examples of the birds that can be observed (see more here).